Welcome to the Crook County Sheriff Search and Rescue official website. We invite you to look around our site and learn more about us and our service to the community. You can find detailed information on our About Us page.
We are a volunteer organization but we train rigorously and stand prepared to assist Crook County and neighboring counties in all manner of Search and Rescue missions.
Please visit our BackCountry Survival page for tips and suggestions to improve your odds against the elements. Preparation before you take that hiking, fishing, camping, or hunting trip to the mountains or other wilderness areas can greatly increase your odds of survival if you become injured, ill, or disoriented. Print this Pamphlet and leave the completed Outing Plan with family or friends.
Even the best prepared folks can find themselves in need of help - and that's why we're here. If ever you need assistance for yourself or an overdue family member or friend, please call 9-1-1 to activate the Crook County Sheriff Search and Rescue organization.
Most members join our organization as a way to give back to their community. If you are so inclined, please visit our Membership page to review the qualifications and download an application.
Although individual members are not compensated for their time, personal equipment, or expenses, we are an incorporated charitable organization. We welcome your tax deductible donations for rescue equipment and supplies. Please visit our Donate page to learn how you can help.
---
Project Lifesaver
Crook County Sheriff Search and Rescue proudly announces the arrival of Project Lifesaver in Crook County.
Project Lifesaver's mission is to use state of the art technology in assisting those who care for victims of Alzheimer's and other Related Mental Dysfunction Disorders (ARMD) and victims who become lost.
Victims of ARMD tend to wander from their homes. The project places radio transmitters on identified persons with ARMD. These transmitters assist caregivers and local emergency agencies in locating those who cannot help themselves. This project typically reduces rescue times from 9 hours to less than 30 minutes.
Please click HERE for additional information on the project and becoming a sponsor.
Please click HERE and HERE for recent media coverage.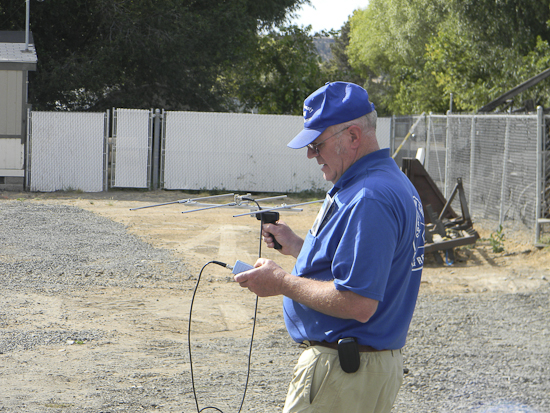 One of our volunteers using the Project Lifesaver tracking equipment.